H9 960W Dual Motor 38 Inch Electric Skateboard
$549.00

$549.00

Save

$50.00
---
---
Teamgee H9 38" Electric Skateboard, Electric Longboard with Wireless Remote Control 25 MPH Top Speed, Dual 480W Motor, 11 Miles Range,15.3 Lbs,10 Layers Maple Longboard 4 Brake Modes

---
PREMIUM QUALITY -Teamgee H9 electric skateboard, though small in size, but superior in performance. Ultra-thin polymer battery ensures fast operation of dual 480W hub motors. High-power motors allow it to challenge all the slops and bumps. At the same time, the sturdy aluminum-magnesium alloy truck can help you drive steadily on rough and uneven roads.
UNIQUE DESIGN -The Deck is made of 9 layers of high-quality Canadian maple and 1 layer of fiberglass. But the thickness is only an incredible 0.6 inches. In addition, the built-in polymer battery not only makes the skateboard more elegant but also enhanced the water resistance. The skateboard weighs only 15.3 pounds, which is absolutely light among similar products.
WIRELESS CONTROL & 4-SPEED SETTINGS - Our longboard is equipped with wireless remote control, which is ergonomic, ensuring the remote control won't be throw out while driving. At the same time, the (L, M, H, H+) four driving modes enhance the driving experience. The (B1, B2, B3, B4) four braking modes can protect your safety.
UNFORGETTABLE DRIVING EXPERIENCE - The invincible combination of 960W super power motor and 3.5Ah polymer battery. 3 hours of charge, 11 miles of range. The maximum speed can reach 40km/h, beating all hoverboards on the market. Teamgee H9 skateboard is a stylish and convenient way to travel, bringing you endless daily commuting fun. 
---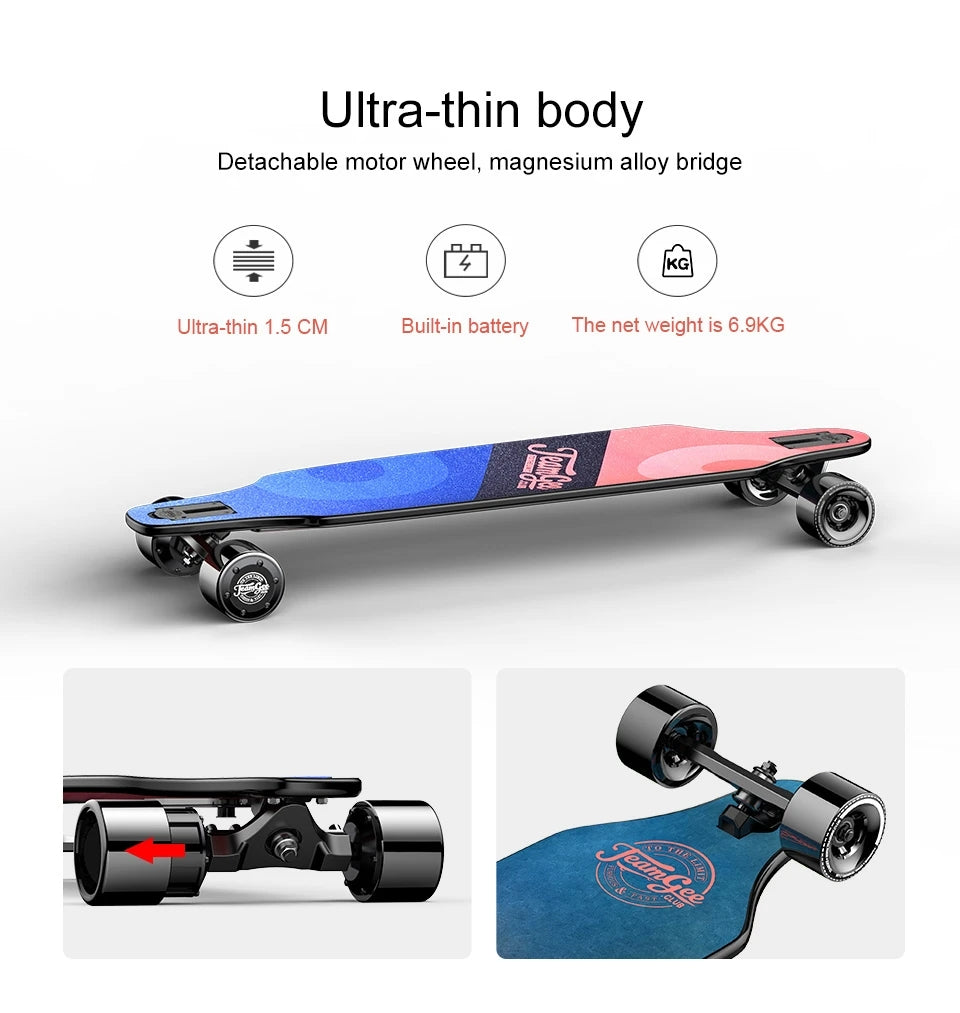 Ultra-thin polymer lithium batteries are used for our electric skateboards. High battery power frees you from worrying about charging issues during riding. Being small in size and light in weight, the batteries hide in the deck and make the board more portable for commuting. The built-in batteries also guarantee a pretty and neat appearance.
---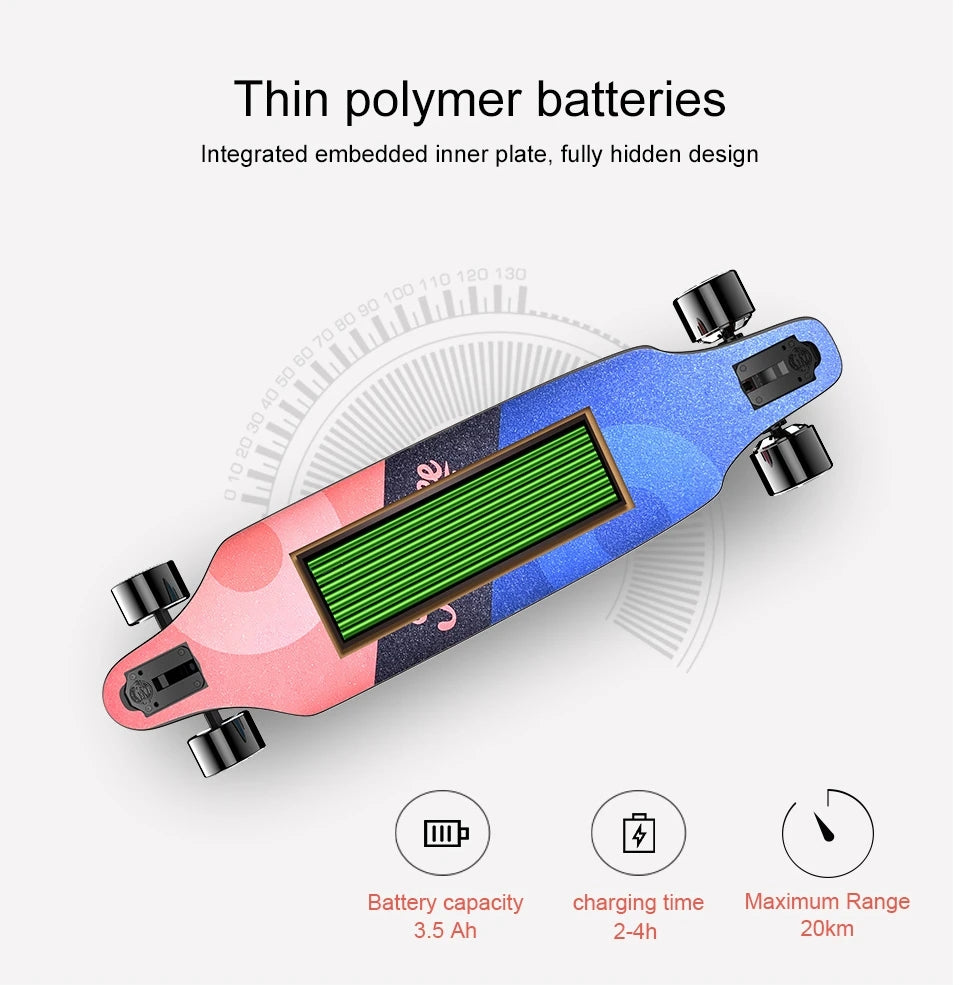 For the sake of an elegant appearance, the H9 electric skateboard eliminates the heavy external battery. Instead, use a built-in polymer battery. Greatly reduce the overall weight.
Easy to carry - it is a new choice for young people to go out. The most awesome intelligent transportation tool.

---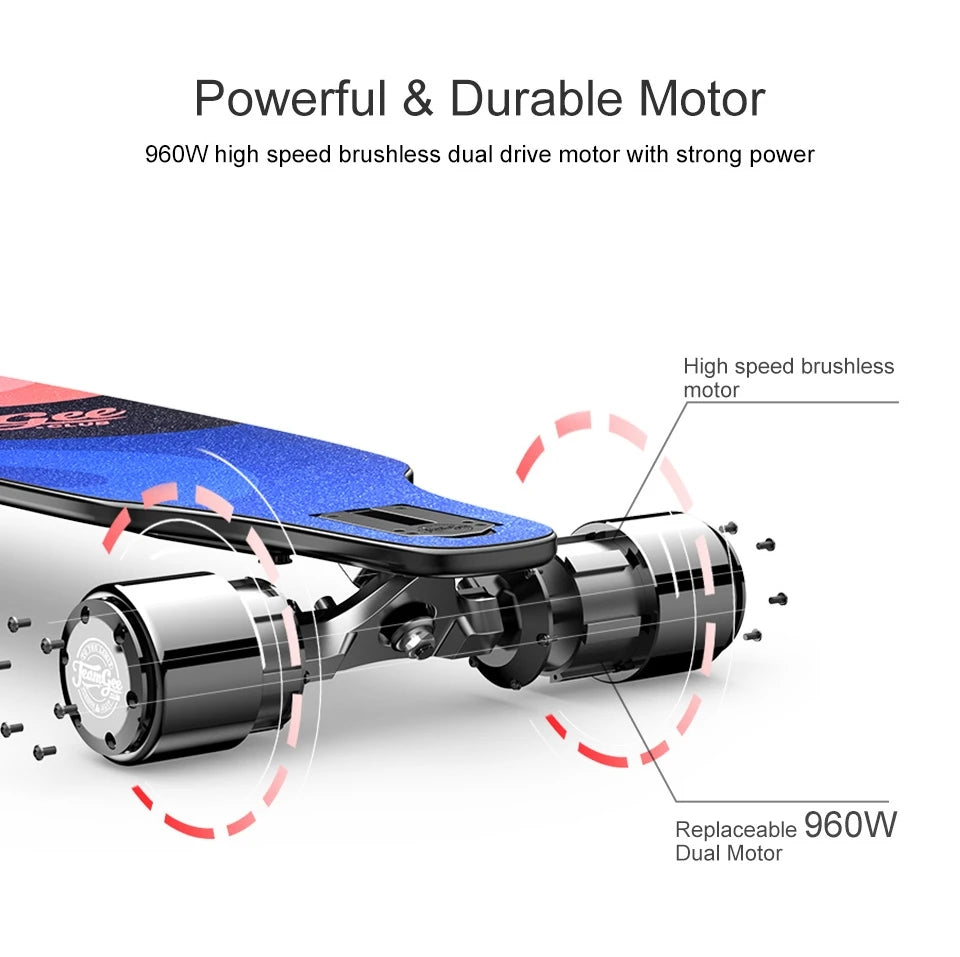 High-Speed Motor

The 960 W dual-motor equipment quickly reaches 25 MPH in the fast mode after startup. The high-speed rotation of the motor brings a speedy experience.

---
High Elasticity PU Wheel

The 90 mm PU wheel distributes gravity to improve ride stability while also providing excellent grip performance. Provides security when challenging difficult actions.

---
Maximum Load of 220 Pounds

The Teamgee electric skateboard boasts a 10-Layer Canadian Maple Wood deck that carries a people's weight up to 220 pounds for a smooth comfortable ride. This Incredible board has a max range of UP TO 11 Miles!

---
Intelligent Two-way Remote Control

Our remote control has 4-speed modes and the buttons are easy to operate.

You can pull down to the end of the throttle, in the meantime, press the speed button to switch brake mode(B1, B2, B3, B4), which can adapt to the needs of different levels. No matter you are a novice or a professional rider.

---
Even suffering from serious wear and tear, you don't need to replace the whole motor. Just replace the tires and you can get a whole new skateboard instantly. Replaceable tires of the same size are available at our accessories store.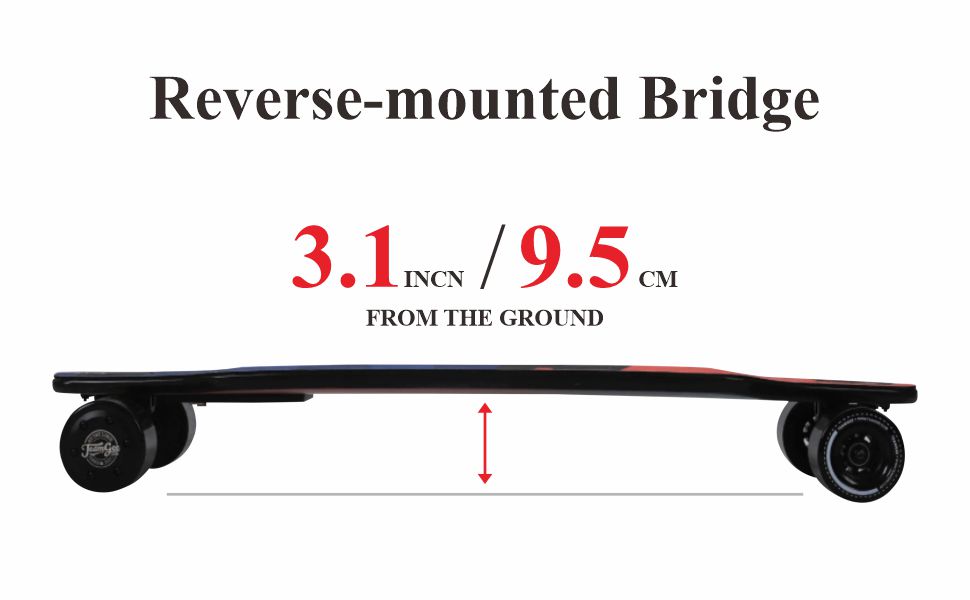 ---
Direction The Teamgee ergonomic remote is unlike any other. Featuring a digital display and intuitive design, it will not only allow you to control your board perfectly but will also keep you informed about the speed, battery, and direction of your Teamgee electric longboard. The remote is even equipped with a LED flashlight to help you see in the dark.
---
SPECS: H9

---
Speed: Up to 25 mph / 40 kph
Range: Up to 11 miles / 18 km
Hub Motor Power: High Torque Dual 480 Watts *2
Hill Climbing: Up to 25% Grade
Board Weight: 15.3 Ibs / 6.95 kg
Deck Material: 10 Ply Maple with 1 ply fiberglass
Deck Size: 38(L), 9(W), 0.6(H) inch / 97 ,23, 1.5 cm
Ride Modes: 4 Speed Modes
Braking System: 4 Brake Modes
Max Load: 220 Ibs / 100 kg
---
9 MONTHS WARRANTY
---
Wherever you buy this product, whether in the US or from any Nero Cycle outlet or Distributor's store, you have 9 months to request repairs if this product turns out to be faulty or not as advertised. The 9 months warranty period starts from the date your product is delivered and you must inform the seller of any issue encountered with one of our products within 10 days of discovering the issue.