H20T 1200W Dual Motor Electric Skateboard
Teamgee H20T 38" Electric Skateboard, 26mph Top Speed, 1200W Dual Motor, 22 Miles Range, 21 Lbs, 8 Layers Maple Longboard with Wireless Remote Control

---
It's time to up your ride. Teamgee has come out with an upgraded board that pushes the possibilities of what an electric longboard can do.
The H20T is designed to bring speed and stability for any level of rider on any road. Step on and ride into the future quickly and in style.
The Most Stable Ride with Wider Tires
Take a ride on any road or surface. Using 103mm rubber tires that are widened by 24 holes to add shock absorption. The holes create a buffer zone and reduce weight allowing you to cruise in stability on any road.
This also offers a smoother riding experience thanks to the additional support provided by their anti-skid capabilities, making them perfect for rain-slick streets and wet pavement.
---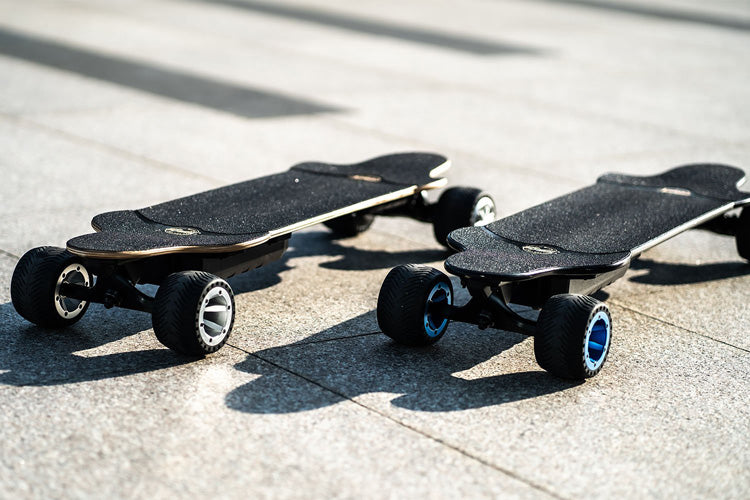 ---
22 Miles On A Single Charge
Go further than you imagined possible on a single charge. The H20T offers you up to an astounding 22 Miles of range on a single charge, meaning you can cover any city center or suburb without having to worry about a low battery.
Using 2 * 600W motors and built with 4 gears of acceleration and speed, the H20T offers unparalleled control of your riding experience. Get comfortable at lower gears before hitting the High+ gear speed of 26mph (42km/h).
Racing Car Acceleration
You can expect to go from 0 to 26miles/h (42km/h) in 3-5 seconds, giving you the feeling of driving a racing car. This is made possible by the H20T's low weight, allowing you to accelerate in less time.
And switching between modes is a simple press away thanks to the perfected Teamgee handheld remote.
Designed For Comfortable Riding
The board design of the H20T is made with stability and comfort in mind. Using a unique and exclusive to TeamGee boards W-shaped foot socket to create a firm surface for stable foot placement. Rider stability is further supported by the warped sides and concave formation design of the wheels that help the shockproof and stable nature of the board on uneven surfaces.
The board shape also uses a positive camber in four directions to create a comfortable angle to further the rider's stability when cruising.
Made For Just About Everyone
The H20T is an electric board made for just about every level of rider, from a complete novice who's only ever watched skateboarding and longboarding videos to a YouTube vlogger who owns 10 different electric longboards and cruises through busy city streets on a daily.
Offering a better ride experience through better multi-gear control, advanced braking capabilities, longer range, and a W-shaped foot socket and board design that allows new riders to feel comfortable on their first ride and advanced riders to push the boundaries of their cruises.
---
4 different brake modes - pull down to the end of the throttle, at the meantime, press the speed button to switch brake mode(B1, B2, B3, B4) Can adapt to the needs of different levels of rider no matter you are a novice or a professional rider, you can have fun
4 different speed modes - different speed modes (L/M/H/H+). H+ mode only differs from H mode on a higher accelerate speed at the start.
Battery life standard version: 22 Miles battery range
8 ply Canadian maple + 1 ply fiberglass deck offers riders a super stable platform at higher speeds, with just the right amount of flex to soak up the bumps, making longer commutes faster and more comfortable.
600watt X 2 hub motors can give you access to lightning-fast acceleration and a top speed of 26mph, which delivers a thrill and joy on any city street and is equally at home or on larger campuses.
Well-designed concaves provide a comfortable ride.
Aluminum alloy protective case well protect the battery and mainboard.
---
Direction The Teamgee ergonomic remote is unlike any other. Featuring a digital display and intuitive design, it will not only allow you to control your board perfectly but will also keep you informed about the speed, battery, and direction of your Teamgee electric longboard. The remote is even equipped with a LED flashlight to help you see in the dark.
---
Specification: H20

---
Speed: Up to 26 mph / 42 km/h
Range: Up to 15.5 miles / 25 km
Hub Motor Power: High Torque Dual 600 Watts *2
Hill Climbing: Up to 30% Grade
Board Weight: 21 Ibs / 9.5 kg
Deck Material: 8 Ply Maple with 1 ply fiberglass
Deck Size: 38(L), 9(W), 0.6(H) inch / 97cm x 23cm x 1.5 cm
Ride Modes: 4 Speed Modes
Braking System: 4 Brake Modes
Max Load: 286 Ibs / 130 kg
---
PAYPAL PURCHASE PROTECTION
---
Paypal Purchase Protection covers all eligible purchases where PayPal is used, as well as payments made through our website. We Accept Visa / Master Card / American Express / Discover Card & PayPal using a secure PayPal payment gateway!
You can pay with Debit or Credit Card via Paypal payment gateway. PayPal account optional but not required!
---
9 MONTHS WARRANTY
---
Wherever you buy our products, whether in the US or from any Nero Cycle outlet or Distributor's store, you have 9 months to request repairs if any vehicle turns out to be faulty or not as advertised. The 9 months warranty period starts from the date your product is delivered and you must inform the seller of any issue encountered with one of our products within 10 days of discovering the issue.