H20 1080W Dual Motor Electric Skateboard
Teamgee H20 38" Electric Skateboard, 26mph Top Speed, 1080W Dual Motor, 18 Miles Range, 21Lbs, 8 Layers Maple Longboard with Wireless Remote Control

---
This electric skateboard is different from all the boards we had released before. The R&D was started two years ago. Our purpose is to create a comfortable, interesting, and exquisite electric skateboard. H20 is designed for riders who focus on speed and performance. On open roads and densely populated cities, this board brings you the speed and response you need for confident and smooth navigation alongside traffic.
The H20 comes equipped with dual hub motors, which can give you access to lightning-fast acceleration and a top speed of 26mph, which can deliver a thrill and joy on any city street and is equally at home on larger campuses.

---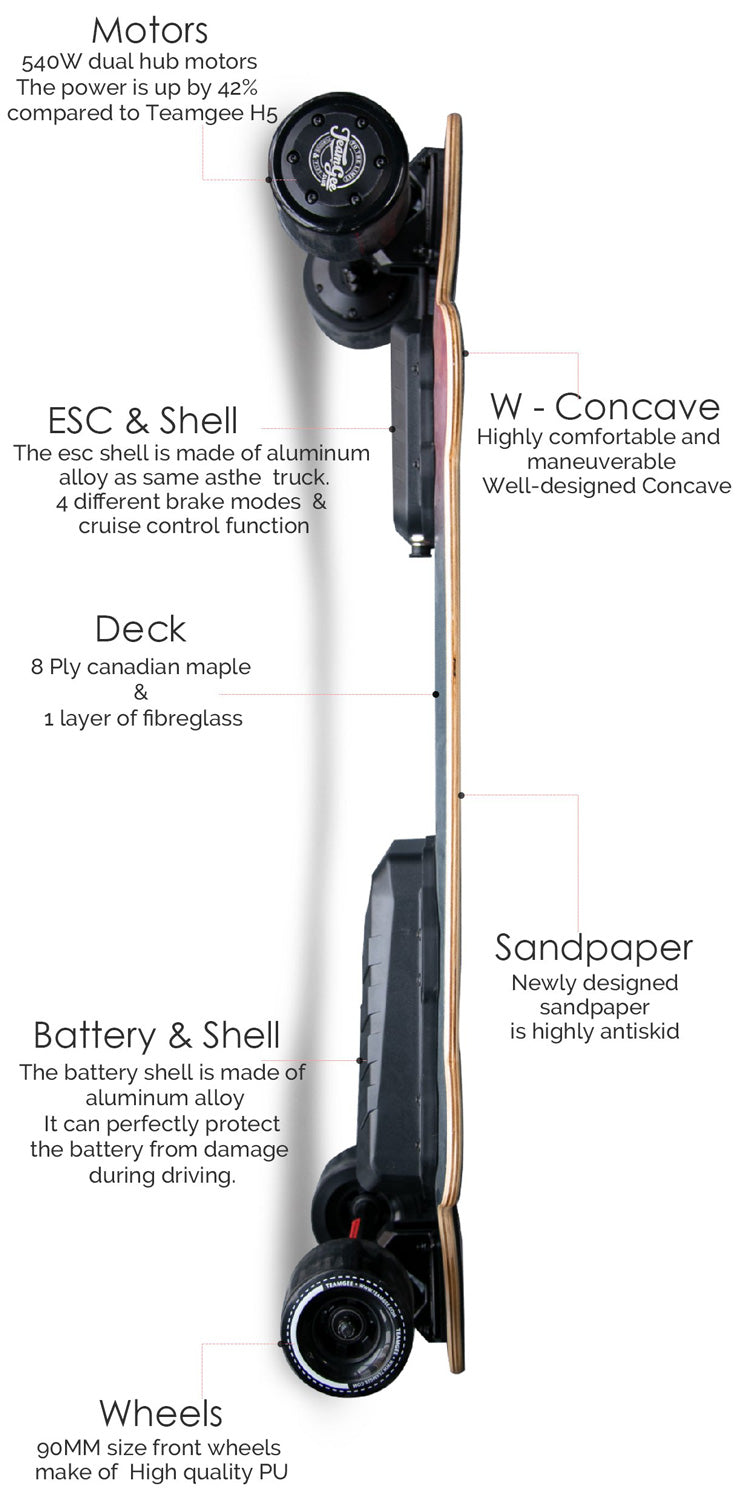 ---
4 different brake modes - pull down to the end of the throttle, at the meantime, press the speed button to switch brake mode(B1, B2, B3, B4) Can adapt to the needs of different levels of rider no matter you are a novice or a professional rider, you can have fun
4 different speed modes - different speed modes (L/M/H/H+). H+ mode only differs from H mode on a higher accelerate speed at the start.
Battery life standard version: 30 kilometers battery range
8 ply Canadian maple + 1 ply fiberglass deck offers riders a super stable platform at higher speeds, with just the right amount of flex to soak up the bumps, making longer commutes faster and more comfortable.
540watt X 2 hub motors can give you access to lightning-fast acceleration and a top speed of 42km/h, which delivers a thrill and joy on any city street and is equally at home or on larger campuses.
Well-designed concaves provide a comfortable ride.
Aluminum alloy protective case well protect the battery and mainboard.
---
Direction The Teamgee ergonomic remote is unlike any other. Featuring a digital display and intuitive design, it will not only allow you to control your board perfectly but will also keep you informed about the speed, battery, and direction of your Teamgee electric longboard. The remote is even equipped with a LED flashlight to help you see in the dark.
---
Specification: H20
---
Speed: Up to 26 mph / 42 km/h
Range: Up to 18 miles / 30 km
Hub Motor Power: High Torque Dual 540 Watts *2
Hill Climbing: Up to 30% Grade
Board Weight: 21 Ibs / 9.5 kg
Deck Material: 8 Ply Maple with 1 ply fiberglass
Deck Size: 38(L), 9(W), 0.6(H) inch / 97cm x 23cm x 1.5 cm
Ride Modes: 4 Speed Modes
Braking System: 4 Brake Modes
Max Load: 286 Ibs / 130 kg
---
9 MONTHS WARRANTY
---
Wherever you buy our products, whether in the US or from any Nero Cycle outlet or Distributor's store, you have 9 months to request repairs if any vehicle turns out to be faulty or not as advertised. The 9 months warranty period starts from the date your product is delivered and you must inform the seller of any issue encountered with one of our products within 10 days of discovering the issue.