FF Street 1500W Dual Motor Electric Skateboard
Maxfind Electric Skateboard with Wireless Remote Control, FF STREET 38 Inch 1500W Dual Motor Electric Long Skateboard & Longboard
---
BEST RIDING & LONG RANGE
Shuttle Through City Streets!
Maxfind FF-street is our best high-performance electric skateboard. From idea to production, the FF-street experienced repeated molding and detail improvement, including longer range and lightning-fast acceleration. The deck is made of the latest PPS composite material to maintain flexibility and shock absorption. While the latest Hobbywing ESC provides smooth riding.

---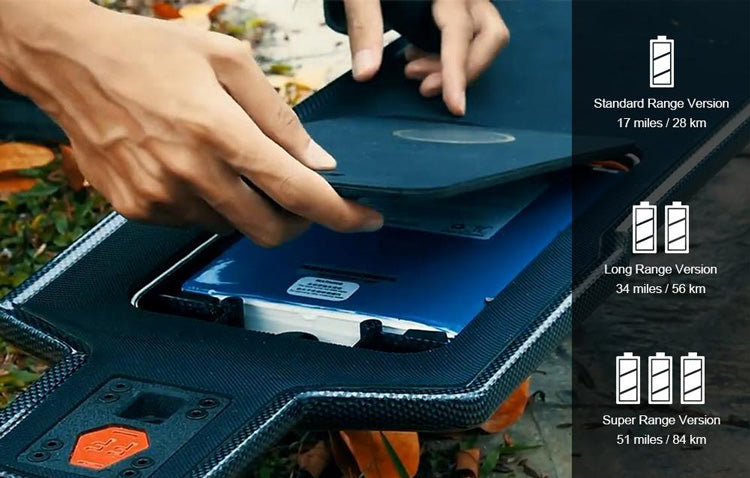 FAST-SWAP BATTERY DESIGN
Change The Battery Within 10 Seconds, Start New Journey!
You can choose the battery combination version you want to meet the needs of long-distance travel.
- Standard Range: Up to 17Miles / 28Km

- Long Range: Up to 34Miles / 56Km ↑
(+1 Samsung Battery)

- Super Range: Up to 51Miles / 84Km ↑↑
(+2 Samsung Battery)
---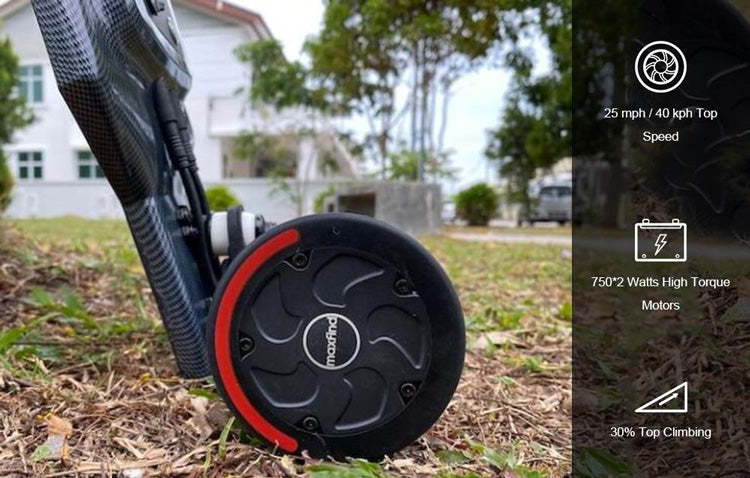 NEW CUSTOMIZED M5 HUB MOTOR
Super Fast and Power!
Maxfind FF-Street is equipped with the 750W*2 motors which have more torque with a smaller input current. The internal structure of the motor has been optimized, meaning the PU sleeves are easier to swap and have fewer noise issues. And the exclusive customized motor caps make the motors look more advanced and more beautiful.

- 25 Mph / 40 Kph Top Speed

- 750*2 Watts High Torque Motors

- 30% Top Climbing
---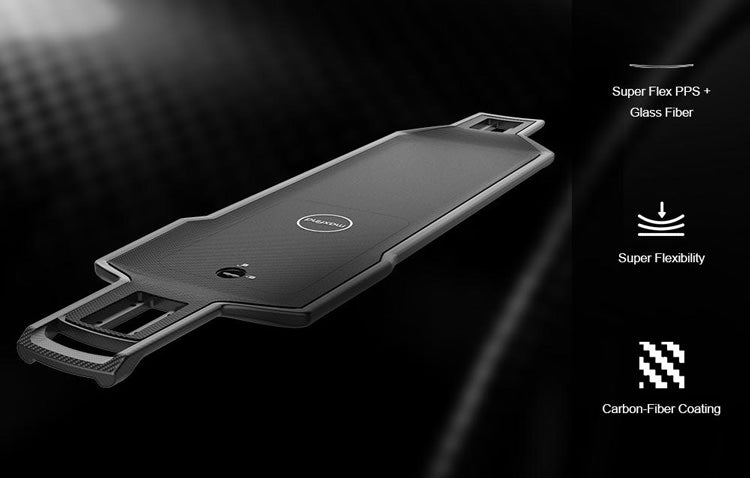 SUPER FLEX COMPOSITE DECK
Excellent Shock-Absorption & Comfortable Riding
The super composite elastic deck greatly reduces the vibration caused by uneven roads and keeps super stability at high speed.

- Super Flex PPS + Glass Fiber

- Super Flexibility

- Carbon-Fiber Coating
---
NEW UPGRADE DOUBLE KINGPIN TRUCK
Precise Carving, Fantastic Riding Experience!
Compared with the traditional truck, the double-kingpin truck is longer, stable, and more suitable for rugged roads.

- Double Kingpin Truck

- Anti-Scratch Coating

- 98A Elastic PU Bushing
---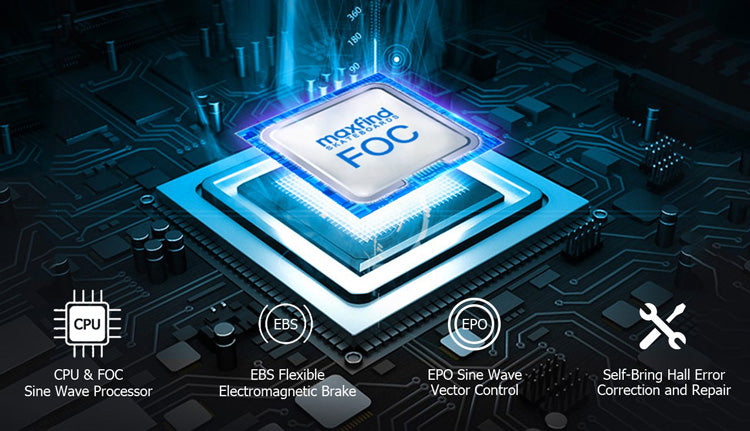 NEW HOBBYWING FOC ESC
Enjoy Hair-Raising Top-Speeds Of 25mph With Max-Mode Activated.
Accurately adjust the power output to make acceleration and braking smoother Professional-grade power adjustment and Hobbywing motor cooperate tacitly, greatly improving energy efficiency Bring you a better and comfortable riding experience.

- Max - Turbo Mode 55%↑

- EBS Electronic Brake System
---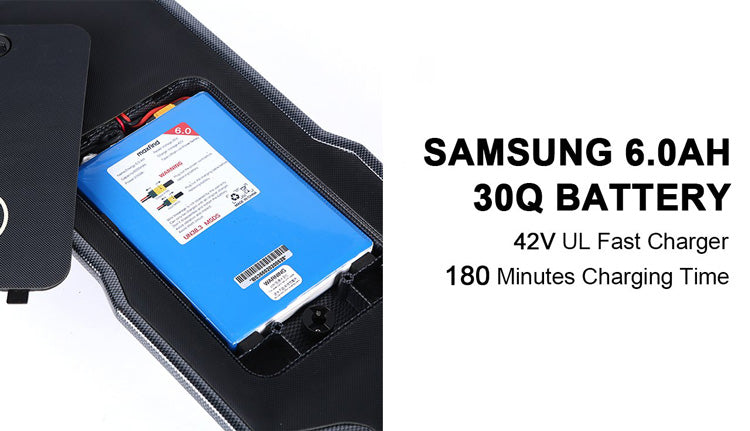 10S2P 36V POWERFUL SAMSUNG BATTERY
Super Fast Charging Time!
The FF Plus is equipped with a Samsung 30Q 216Wh, high-compacity lithium battery that makes the board easier to accelerate and provides more torque with a smaller output current. This battery is small in size and easy to carry and is the best among other boards of the same level.
---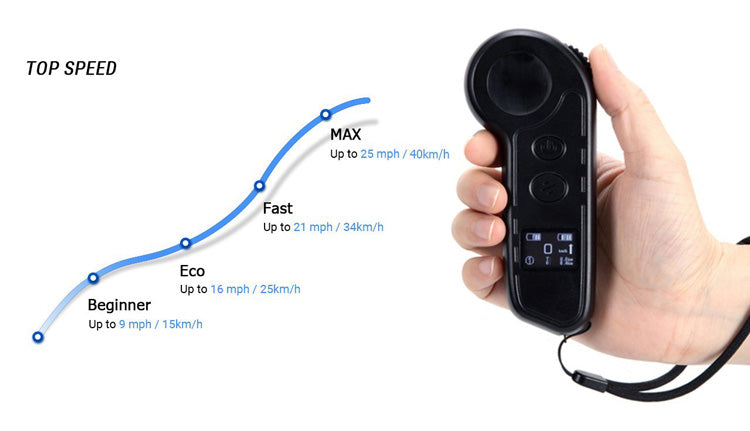 LCD DISPLAY REMOTE CONTROL
Supplied by Hobbywing

Hobbywing latest ESC guarantees powerful acceleration. Four adjusted modes help you to switch quickly to face different environments. A high-definition LCD screen provides an intelligent reading of rich riding data.

- 4 Safe Riding Modes

- 2.4G Signal Range

- LCD Screen
---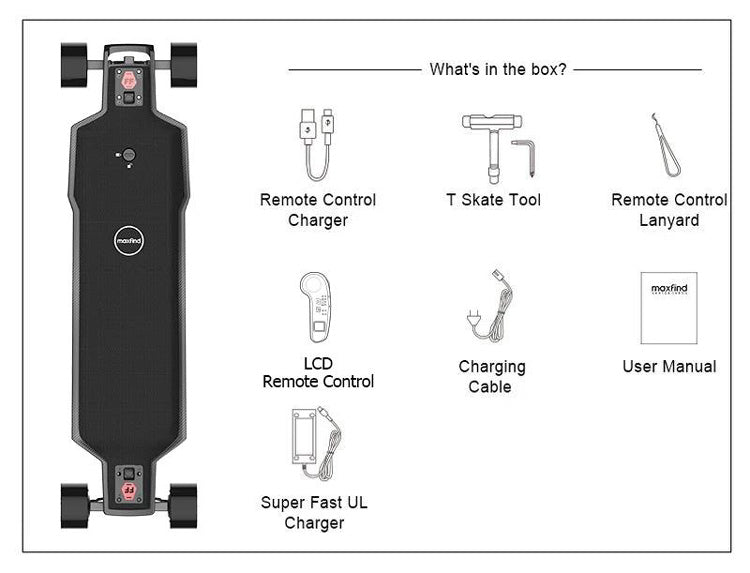 WHAT'S IN THE BOX?

1. New FF-STREET Electric Skateboard

2. LCD Remote Control

3. Super Fast UL Charger

4. T Skate Tool

5. Remote Control Charger

6. Remote Control Lanyard

7. Charging Cable

8. User Manual

---
REVOLUTIONARY DESIGN CONCEPT
Best Electric Skateboard 2021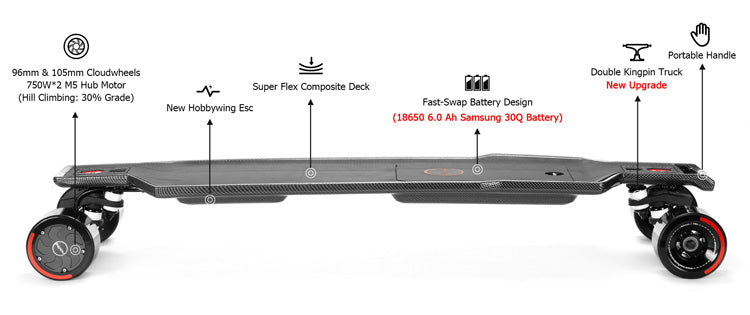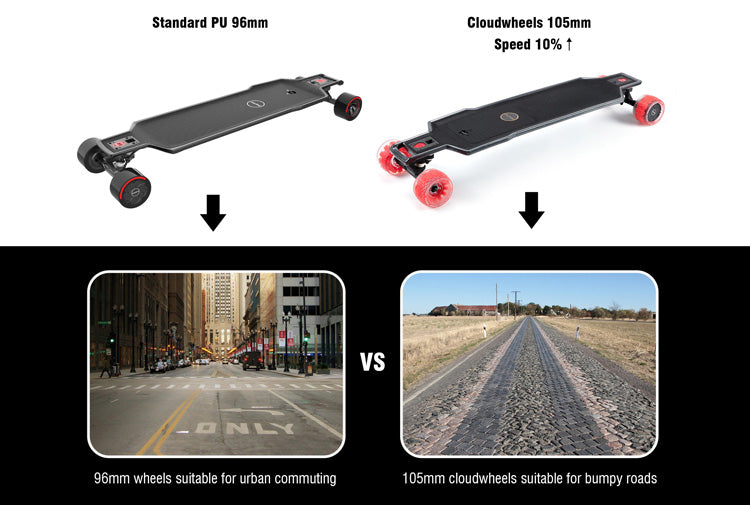 ---
Specification: FF-STREET

---
Speed: Up to 25 mph / 40 kph
Standard Range: Up to 17 miles / 28 km
Long Range: Up to 34 miles / 56 km↑
Super Range: Up to 51 miles / 84 km ↑↑
Batteries: Samsung 10S2P 30Q, 6.0Ah, 216Wh, 36V
Hub Motor Power: High Torque Dual 750 Watts *2
Hub Motor Torque: 5 N.m x2
Hill Climbing: Up to 30% Grade
Deck Material: Super Flex PPS + Glass Fiber
Deck Surface: Carbon Fiber Coating / UV
Dimensions: 38(L), 13.4(W), 6(H) inch / 970 x 340 x 150 mm
Trucks: New Upgrade Double Kingpin, (11.4 inch / 290 mm CNC Precision Machined)
Ride Modes: 4 Safe Riding Modes (Beginner/Eco/Fast/Max)
Braking System: Electronic Regenerative Braking
Wheels: 96 mm (3.8Inch) & 105 mm
Max Load: 220 Ibs / 100 kg
---
9 MONTHS WARRANTY
---
Wherever you buy this product, whether in the US or from any Nero Cycle outlet or Distributor's store, you have 9 months to request repairs if this product turns out to be faulty or not as advertised. The 9 months warranty period starts from the date your product is delivered and you must inform the seller of any issue encountered with one of our products within 10 days of discovering the issue.