D4 2000W Dual Motor Folding Electric Scooter
---
D4 | 80KM RANGE | 23400mAh | DUAL MOTOR 2000W | 52V | FOLDABLE ELECTRIC SCOOTER - 10" WHEELS
The D4 comes with two independent 1000W motors control to the front and rear wheels , motors power up to 2000W in all-drive mode provide a top speed of 40MPH. Weighing in at less than 32 KG (70 lbs), D4 can be quickly and easily folded up and stored in any car trunk or other transport vehicle space. The D4 is also designed with waterproofing measures (IPX4 waterproof level) to allow the D4 to be operated in wet weather and wet environments. We offer a great selection of High-End electric scooters to customers all over the world! All of our electric scooters deliver an extraordinary experience in Safety, Riding, and Quality! Fast speed, maxi 49.7 miles driving range.
---
FEATURES
---
High-Speed CPU Inside / Fast Reaction Speed

Rechargeable Lithium Battery / 23400mAh / 52V

49.7 miles Driving Range on a Full Charge (depending on riding style, rider's weight, surface conditions, and grade angle)

Powerful Dual Motors / 2000W Provides the Max 70km/h Speed and Max 40 Degree Gradient.

LCD Display for Speed /Range /Power

4 front Shock Absorbers and 2 Rear Shock Absorbers, Comfortable and Stable

Front and Rear Hydraulic Disc Brakes and E-ABS Anti-lock System

10-inch Inflatable Tires

Bright LED headlight and taillight

Aluminum Alloy Shell for Max 200kg Payload
Less than 70 lbs Weight and Fast Folding Design
---
FUNCTIONS
---
Powered with 2000W dual-motor, reach max speed 70km/h (40mph)

LED display, all in one screen

One-click unfold & fold

Light and portable, 32kg including battery

10-inch inflatable tires

Equipped with front and rear light. Safe drive in the dark
---
SPECIFICATIONS
---
Battery Capacity: 23400mAh
Battery Voltage: 52V
Motor: 2000W DC Brushless Dual-Motor
Mileage: 80km
Weight: 32kg
Dimension Unfold: 1180*520*1280mm
Dimension Fold: 1180*520*450mm
Maximum Speed: 70km/h (40mph)
Tire Type: 10" Inflatable front / rear tires
Charging time: 7-8 hours (4-5 hours for dual charging)
Max load: 200 kg (440 lbs)
Grade ability: 40-degree slope
Speed: Three-speed
---
BATTERY
---
Battery Type: Rechargeable Lithium-ion Battery
Battery Capacity: 23400mAh
Battery Voltage: 52V
Charging Time: Around 420-480 Mins
---
MOTORS
---
Motor Type: Powerful DC Brushless Dual Motors
Motor Power: 2000W
---
MILEAGE
---
Mileage: 49.7 miles / 80 KM
---
STANDARD ACCESSORIES
---
Charger, User Manual
---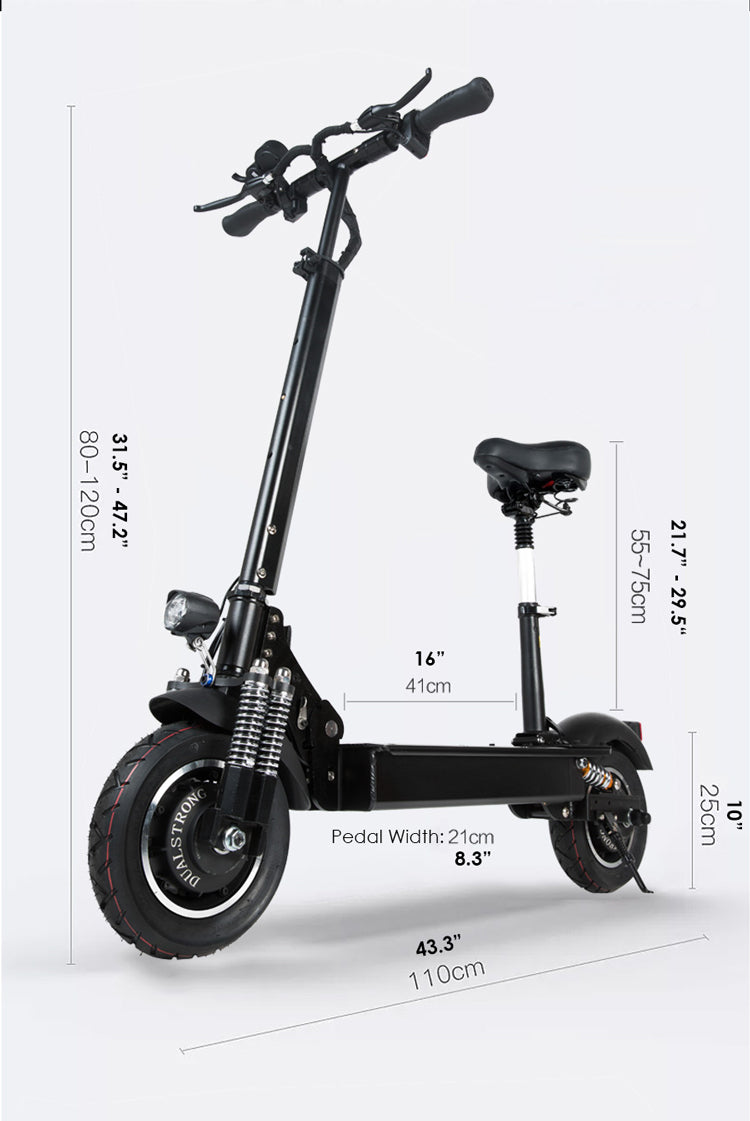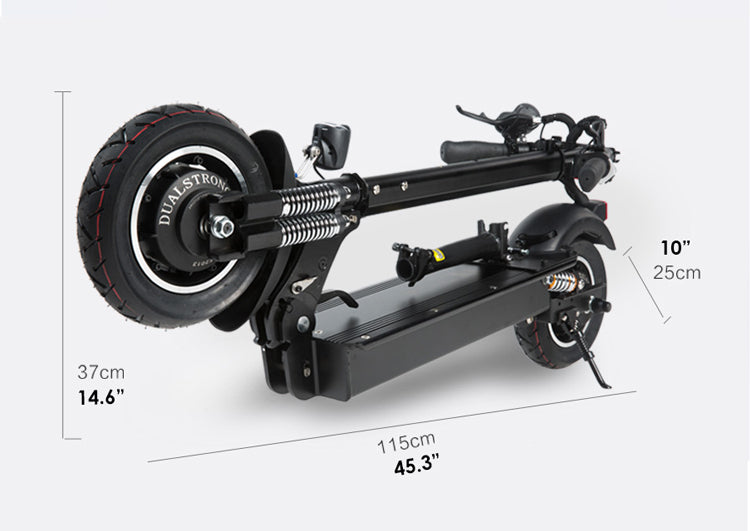 ---
D4 is equipped with front and rear HYDRAULIC DISC BRAKES system and the ELECTRONIC BRAKE system makes your riding safe and worry-free.
The brand new D4 is a newly-designed and stylish portable intelligent foldable scooter. The D4 focuses on a lightweight traffic concept. The foldable and flexible design brings a new experience to city commuting and general entertainment transportation and travel. 
Warning: Protective equipment should be used. For domestic use only and under adult supervision. 
---
Nero Cycle Warehouse & Maintenance Center
---
The scooter is shipped from one of these below warehouses by UPS, if you choose 3-8 Working Days Shipping Option:

1. CA Warehouse:
437 N Baldwin Park Blvd #AD7450, City of Industry, CA, 91746
2. NJ Warehouse:
380 Jelliff Aveune, Newark NJ 07108
Our Maintenance Center is located at:
139 eldridge st, New York, n y, 10002
Note:
1. Please make an appointment with us, if you want to visit our warehouse or service center.
2. Contact us by mail or make a phone call at first, when you find any quality issues.
3. If you want to make a return, read our return policy carefully and contact us first.
---
PAYPAL PURCHASE PROTECTION
---
Paypal Purchase Protection covers all eligible purchases where PayPal is used, as well as payments made through our website. We Accept Visa / Master Card / American Express / Discover Card & PayPal using a secure PayPal payment gateway!
You can pay with Debit or Credit Card via Paypal payment gateway. PayPal account optional but not required!
---
12 MONTHS WARRANTY
---
Wherever you buy our products, whether in the US or from any Nero Cycle outlet or Distributor's store, you have 12 months to request repairs if any vehicle turns out to be faulty or not as advertised. The 12 months warranty period starts from the date your product is delivered and you must inform the seller of any issue encountered with one of our products within 10 days of discovering the issue.